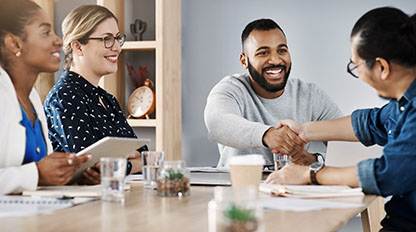 The First 90 Days are Critical
The first 90 days of a new hire are critical because they can determine whether the person stays in the job and is productive and successful, leaves the job dissatisfied, or is terminated for poor performance. We already know how expensive bad hiring decisions are to the organization. What a terrible waste of time and money to think you've hired the right person but failed to provide them with support and guidance in the critical first 90 days. A negative onboarding experience can effectively double your cost and time to hire. Having to start the process over again is counter-productive and can also impact morale.
Experience-Driven Onboarding
The Human Capital Institute has found that companies invested in experience-driven onboarding improves new hire retention by 82% and boosts productivity by 70%: Onboarding in the Experience Economy. Transforming your onboarding from process driven to experience driven can result in increased engagement levels, decreased time to proficiency, and decreased turnover.
Because employment experiences are increasingly of more value, the effort you put into how an employee is onboarded and trained during the first 90 days is critical to production, engagement, and retention. Harrison Assessments is able to inventory an employee's most important employment expectations and found that "Wants Development Opportunities" is consistently one of the highest ranked across the globe. Individuals want to work for organizations that support their development and afford opportunities to improve as professionals and as people.
Predictive Talent Analytics
One of the most effective ways for organizations to demonstrate their commitment is to implement the same predictive talent analytics used in the hiring process for continued employee development. Typically, this involves the employee receiving a debrief of selected reports to review and discuss strengths, expectations, and areas for development against the requirements of their current job or a desired job for hi-potential employees. It's a true framework for understanding workplace behaviors. Those which can be leveraged for their continued success and growth, and those which may need development over time. Ultimately it provides actionable insights and accountability.
Maximize Performance and Retain Top Talent
Dr. Harrison believes it's a fundamental truth that all employment must be mutually beneficial. If we want to maximize an employee's performance, it is crucial that organizations have a deep understanding of their individual drivers - or core behavioral preferences and important expectations. Conversely, the employee must have a clear understanding of what is required of them and the key indicators or benchmarks for high performance. Effective communication fostered by an effective onboarding process and an employee development action plan at this early stage is paramount. It leads to real conversations about what is most important for both parties. Without this communication, employees may find themselves unsure of what is required, potentially pick up bad habits from poor performing employees, or worst case - decide this is not the high-performance environment they hoped for and leave.
Developing a strategic and effective onboarding program will be an iterative and on-going process. Identifying at-risk employees and using this data to effectively create a strategy for growth and retention will result in keeping your top talent and minimize the huge costs related to employee turnover.
Smart Solutions - SmartQuestionnaire
Harrison Assessments was founded in 1990 with a single vision and purpose - to help companies optimize their human capital by leveraging their deep understanding of human resources and psychology. Their SmartQuestionnaire measures 175 workplace factors and enables the effective measurement of leadership paradoxes, emotional intelligence, personality, motivation, attitudes, passion for specific jobs, engagement, and retention - all in one high-tech 25-minute questionnaire.
The company focuses on providing the most trusted and accurate employee assessment solutions in the industry. These solutions help managers throughout the entire HR process, and assist companies to become more productive and efficient, leading to increased profitability.