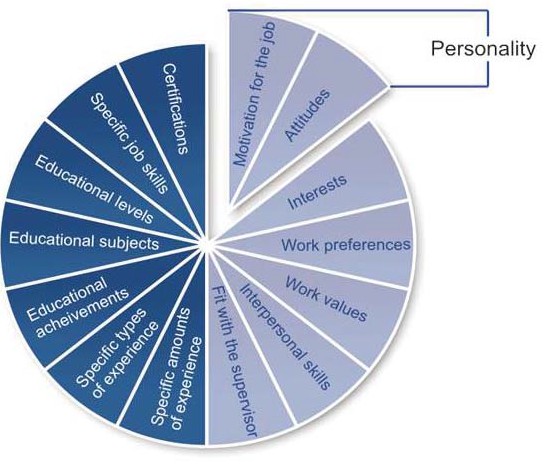 Personality tests are increasingly popular due to the importance of understanding how an employee or job candidate will behave. Since poor performance usually relates to behavioral issues, measuring job behavior is essential.
However, personality tests are very general, usually measuring only 4-30 personality factors which are used for every job. In contrast, Harrison Assessments' award winning suitability assessment is designed to measure engagement, motivation, interpersonal skills and retention factors related to specific jobs.
Ever wonder how Dan Harrison and the Harrison Assessments formulate the success factors for a specific job?
The first challenge is to fully analyze the job to determine the factors that enable job success. Without a comprehensive set of the job success factors, assessment cannot be effective. However, listing of factors is only the first step. The factors need to be developed into a formula that is weighted relative to each other factor in order to reflect the desired level of impact of each factor has on overall job performance. Each individual score for each assessment is then integrated to derive an overall Total Suitability score.
A Job Success Formula includes three parts: Eligibility, Suitability and the Interview.
Eligibility factors can be scored using assessment questions either before the interview or during the interview. If used in a pre-assessment before the interview, the interview can be used to further investigate and confirm the answers.
Suitability factors can be scored using a suitability assessment, using behavioral interviewing questions, or both.
Other assessments such as aptitude tests or manual dexterity tests can also be added to the formula, but must be formulated in the same way to reflect how different result levels will impact the overall score.
If you have an effective Job Success Formula, you final decision is simple. Since you have already defined the exact criteria for hiring as well as how you want to score the different levels of those factors, the candidate with the highest total score should be the best candidate. If that is not the case, you should probably review your Job Success Formula and make the necessary adjustments.
An effective Job Success Formula governs the entire process of recruitment and enables you to effectively pre-assess applicants, interview applicants and determine the best candidate. It not only structures the interview, it structures the entire recruitment process making the assessment much more systematic and accurate.
Another benefit of using a JSF is also job knowledge management. By identifying, weighting the impact and scoring the intensity of each trait that has correlation to overall job performance (Essential or Non-Negotiable s, Desirables (Nice to have) and Avoids (Derailers) , recruiters can track the effectiveness and predictive accuracy of the JSF. Over time, these criterion can be reviewed and fine tuned to achieve that perfect Sweet Spot JSF.
Harrison Assessments can help you find that sweet spot.